The night Julia Child came to dinner
(Read article summary)
Southern fried chicken served as the centerpiece. And Julia helped herself to seconds.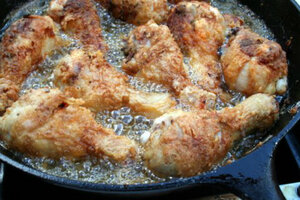 The Runaway Spoon
Anyone who grew up in the South has some kind of fried chicken memory. Or maybe no particular, specific single event at all, because fried chicken is so ubiquitous. But it is one of the many food topics a true Southerner can weave a yarn around. Fried chicken a simple weekend supper, first choice for a picnic or dinner on the ground, someone's favorite special occasion meal. Fried Chicken is served at big, noisy, sloppy family gatherings, packed into the car for road trips, served at summer camp, or for small Sunday after church lunches. That's where I ate most of my fried chicken growing up.
Julia Child had dinner at my house when I was a kid. You may be wondering how this fits into a story about fried chicken, so here it goes. Julia and Paul Child were in Memphis raising funds for Planned Parenthood and my parents were selected to host a dinner party for the Childs and select guests (that is to say potential donors). People were scrambling for the opportunity to participate – to wash Julia's plate, or serve Paul a drink.
---