Crème bruleed chocolate cake in honor of Julia Child
(Read article summary)
A tribute baked for Julia Child, the master chef of home cooking, on her 100th birthday.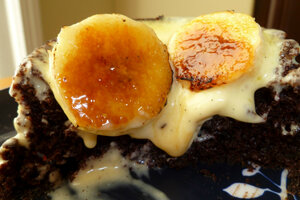 The Pastry Chef's Baking
"If you're afraid of butter, use cream." The average foodie, chef, and baker know those famous words were uttered by the incomparable Julia Child who brought the art of French cooking to the American kitchen and palate.
In a roundabout way, I owe my blog, The Pastry Chef's Baking, to Julia Child because it was watching the movie, "Julie & Julia" that finally spurred me to start blogging almost three years ago.
So in honor of her birthday on August 15, I'm giving a French twist to the classic American chocolate cake by making this crème brûlée chocolate cake – a chocolate cake "shell" filled with vanilla bean custard; I added sliced bananas to top the custard and brûléed them to crackly goodness.
A version of this confection is in the "Baking with Julia" by Dorie Greenspan baking book but I went with Martha Stewart's recipe for chocolate cupcakes instead as it was also similar in using cocoa powder for the chocolate flavor and oil instead of butter. Plus, I wanted something on a smaller scale for a brulee since it doesn't have a long shelf life and is best enjoyed within minutes of being caramelized.
The chocolate cake itself came out well. The creme brulee custard tasted good but I don't think I cooked it over the stove top long enough since I was afraid of overcooking the egg yolks and having the custard break like the last time I tried a stovetop crème brûlée.
---