Happy Birthday, Julia Child!
(Read article summary)
Celebrating the woman who changed how we cook. Aug. 15 marks the 100th birthday of Julia Child.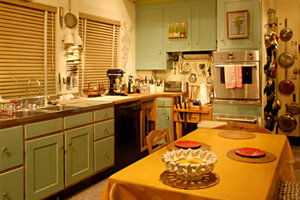 Terry Boyd
To mark the 100th anniversary of Julia Child's birth, PBS.org recently invited a number of chefs and food bloggers to share tributes to Julia, to tell a little about how the seminal cookbook author, TV personality and larger than life person had influenced them. They were kind enough to include me on their list.
You'll find Julia sprinkled throughout the pages of Blue Kitchen (and it's interesting that we all feel comfortable enough with her to call her that, not Ms. Child – but that was the kind of warmth and comfort she always inspired). There are actual recipes, of course, starting with Potage Parmentier, the simple six-ingredient potato leek soup she made for her beloved husband and collaborator Paul almost every day. And there was Skate Meunière with browned butter and capers, based on the life-changing sole meunière Julia ate on her first day in France with Paul.
But Julia is elsewhere on Blue Kitchen, too. A few summers ago, when we took a trip to Washington, D.C. and made a pilgrimage to her kitchen at the Smithsonian, I shared that experience here. And when the movie "Julie & Julia" came out and we, like just about every other food geek, saw it the first weekend, I wrote a piece about what Julia taught us and why we could use a few more Julias today.
---