Two birthday cakes for Julia Child
(Read article summary)
When you have several cooks in the kitchen, things go faster but they can also go awry. What happened when we tried to bake two sponge cakes in honor of Julia Child's 100th birthday.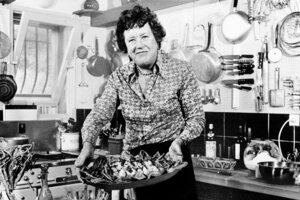 AP
Julia Child's birthday is August 15 and this year marks her 100th. I decided I wanted to honor Julia by baking a birthday cake for her on my birthday, just a few days before, using a recipe or two from one of her many collections.
I must admit that while I am an admirer, I am not a Julia Child disciple. Even though I own "The Way to Cook" with this inscription: "Christmas love to Kendra, from Mom, 1998," I remain somewhat intimidated by it.
My birthday this year fell on a Sunday, and the weekend seemed like the perfect opportunity to host a little backyard picnic with some friends, offered in a kind of casual elegance that describes August. My mom's house on the Cape is the ideal setting for this kind of thing. More so than me, I think my mom and Julia would have been good friends, had they ever met. A intellectual fervor and the tendency to not sweat the small stuff are characteristics they share.
On Sunday morning, however, a steady rain drummed on the roof. Jenna, Gretchen, and I could all hear it from our beds tucked under the eaves. A text arrived from my brother who would be on his way soon with his family to join us in the backyard. "Is there a Plan B?"
No, there was not.
After glumly deciding against a swim in the pond, Jenna, Gretchen, and I set to work on not one, but two cakes: Orange and Almond Sponge Cake and Reine de Saba (Queen of Sheba) from Julia's "Mastering the Art of French Cooking."
Cooking, at least successful cooking, tends to be a solitary affair. A cooking party, which this turned out to be, is more fun, and more chaotic. When you have many cooks, things go faster and they can also go awry. They did.
I sat at the long kitchen table and called out instructions as Jenna and Gretchen tried to navigate an unfamiliar kitchen. The electric mixer wasn't working, so Jenna beat the egg whites by hand (a strong swimmer's arm is good for this).
Another setback, the sudden arrival of guests ready for lunch was a distraction in our work flow and more ground almonds went into the cake than necessary. We were nowhere near ready.
Another distressing discovery: I had called out the instructions for the wrong cake – I had wanted to make a Queen of Sheba cake that required no filling and had instead skipped ahead a page and was directing a Chocolate Sponge Cake without realizing it. Two sponge cakes was not in the original plan. But the chocolate sponge cake and Queen of Sheba are so similar in their ingredients it hardly mattered, we thought, except for one thing. The sponge cakes didn't rise.
Maybe it was the rain. Humid Cape air is a constant presence in the summer as it blows in one window and out the next. It's one reason why things are so causal on the Cape. Everyone slumps around in wrinkled clothes and tugs at swollen doors because that's the way it is. The kitchen, with its low raftered ceiling and bones dating back to 1840, has no air conditioner. Or maybe we beat the egg whites too hard. Or maybe we shouldn't have used unbleached cake flour.
But this is what I love about Julia's example. I don't think she'd worry too much over our flat sponge cakes. She says to master cooking, and that means doing things many times until it clicks. It also means don't get hung up on a failed dish. You don't master something on the first try, after all. Maybe on the 10th or 20th try. I think Julia would be satisfied that we had tried at all.
"The measure of achievement is not winning awards," Julia once remarked. "It's doing something that you appreciate, something you believe is worthwhile. I think of my strawberry souffle. I did that at least twenty-eight times before I finally conquered it."
---