Kimchi-style corn
(Read article summary)
This is a refreshing summer side dish, crunchy and sweet with a touch of heat and just the right amount of garlic. It's lovely with grilled meats or mixed into a green salad.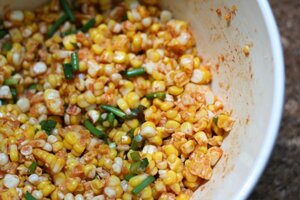 The Asian Grandmothers Cookbook
As much as I adore canned creamed corn, come summer, I love sinking my teeth into a fresh cob and gnawing off the sweet corn kernels bit by juicy bit. My other favorite way with sweet corn is to toss the niblets into a salad with chopped tomatoes and cucumbers brightened with herbs and a squeeze of lemon juice.
Even though I've been eating corn since I was yea high, I realized I didn't know much about it. So I did a little research and discovered some corn trivia and tips.
First, just-for-fun trivia:
An ear of corn always has an even number of rows, with an average ear having 800 kernels arranged in 16 rows.
Popcorn, sweet corn and field corn are three distinct varieties. Popcorn is, obviously, made into everyone's favorite movie-going snack. Sugar-rich sweet corn is cultivated for human consumption, and field corn is cultivated for livestock feed and processed foods.
Contrary to popular belief, Orville Redenbacher didn't invent popcorn. Evidence of popcorn was found in archaeological remains in New Mexico dating back to 5,600 years ago.
Corn is a grass and cornstalks grow between 2 and 20 feet, with the average being 8 feet.
Heirloom corn varieties come in a rainbow array of colors, including blue, red, black, and green.
And some practical tips:
When buying corn, look for bright green husks that fit snugly around the ear of corn. You don't have to strip the husks off the ears to check for freshness. Just squeeze down the length of the corn gently to feel for bald spots. If you can't resist peeking, the kernels should be plump and in tight rows right to the tip.
---