Diner en Blanc comes to Boston, New York
(Read article summary)
Dîner en Blanc is a flash mob pop-up dinner society dressed all in white that draws thousands of picnickers to a distinguished city landmark kept secret until an hour before the meal is to begin.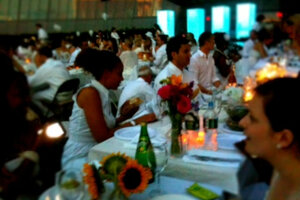 Kitchen Report
On Thursday, Aug. 16, the Boston waterfront beneath the swooping glass facade of the John Joseph Moakley Courthouse was invaded by a throng of picnickers dressed in white and elegantly nibbling from white china plates.
Was it performance art? An extreme response to Zombie Flash Mobs? A cult?
Mais, non.
Dîner en Blanc had arrived in Boston.
Dîner en Blanc (Dinner in White) first began in Paris in 1988 when Frenchman François Pasquier wanted to call together long lost friends by having them meet for a picnic in the Bois du Boulogne, the equivalent of New York's Central Park. One requirement: They must dress in white so they could find each other in the crowd. The experience was so delightful, they repeated the picnic the following year, and every year after, inviting friends along the way until it bloomed into what it is today: A flash mob pop-up dinner society that draws more than 14,000 picnickers to distinguished city landmarks around the world kept secret until an hour before the meal is to begin.
The combination of elegance and mystery under a midsummer's night sky has proved so alluring that Dîner en Blanc has expanded across 5 continents to more than 15 cities worldwide. Paris itself featured three different dinners over two days this year.
New York's inaugural event last year, the first in the United States, drew 1,200 with 30,000 people on the waiting list. This year's guest list has been expanded to 3,200 for their event held last night on Aug. 20 in the courtyard of New York City's Lincoln Center. The Boston event on Aug. 16 brought 650-700 picnickers down to the waterfront.
I received an e-mail in mid July – so nondescript that I almost overlooked it – with an invitation to become a member of Boston's Dîner en Blanc. Dîner en Blanc uses a system of membership, guest sponsorship, and a waiting list to send out invitations.
I invited my friend Lisa, a true Francophile and a foodie to join me. We began to divvy up the details for meeting the evening's requirements to wear white, dress elegantly, and assemble the following to carry to the mystery picnic spot:
A folding square dining table + 2 white folding chairs;
A white bag or a white picnic basket (or covered with a white fabric) containing your dinner items as the following items :


white tablecloth and 2 white cloth napkin
2 white plates + 2 white plates for dessert (non disposable)
2 sets of cutlery (plastic prohibited)
2 glasses (plastic prohibited)
1 complete meal, including: 1 first course, 1 main course, 1 final course (cheese, dessert, etc)
1 white trash bag
A simple picnic, mais bien sûr mes amis!
---