Creamy tomato chipotle soup
(Read article summary)
Now is the perfect time to use season-peak tomatoes from the gardens or the local farmer's market. The addition of a chipotle pepper gives this soup a spicy, smokey flavor. Add a simple green salad and a French baguette on the side.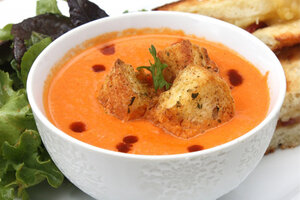 The Gourmand Mom
We have one of those Kinect sensors for the Xbox 360. We bought it on a whim a few months ago, in search of something fun and active to do as a family while we were all cooped up during the chilly winter months. We picked up a few games for the kids and ourselves and we played them often for about two weeks time. Then, our enthusiasm for our new toy waned and the games have gathered dust since.
Mostly, we use the Xbox 360 for watching movies and shows through Netflix. And my husband enjoys the convenience of the Kinect's voice-command abilities. I, however, have been unable to get comfortable with shouting commands at the little sensor which sits perched on top of my TV. It just feels so We're the Jetsons to me. Just can't do it.
My husband, amused at my apprehension to talk to the machine, got a bit surly with it the other night. He started yelling at it, Xbox, make my dinner. Xbox, take a hike. Xbox, smell my feet. At each command, Xbox, upon hearing its name, would stop and try to process the request. Poor, confused Xbox was dutifully attempting to identify and obey each given command, while we sat by and giggled as it struggled.
Well … I'm pretty sure my husband broke the sensor with this little game. It hasn't worked correctly ever since. It now requires most commands to be repeated multiple times or firmly shouted before it responds. It appears we're dealing with a little case of boy-who-cried-wolf. The Xbox no longer believes we're serious when we call it. Either that or it's just angry and being difficult. It's smart. It's learning. And it freaks me out.
---