National Waffle Day: Savory waffles with mushrooms and braised veal
(Read article summary)
Make National Waffle Day (Aug. 24) an all-day affair by serving waffles for dinner.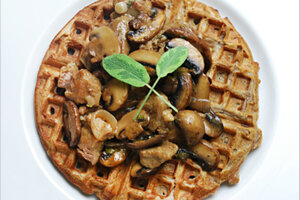 Blue Kitchen
Lots of people love eating breakfast for dinner. To me, though, it's often been more of a meal of last resort. What you eat when you haven't gotten to the store for more serious groceries, but hey, you've got eggs, and the bread is fresh enough if you toast it.
But recently, I stumbled across the idea of savory waffles – can't remember where now – and breakfast for dinner suddenly became more interesting. For starters, you've got waffles, elegant city cousins of the country pancake. They even require their own machine to make – no mere cast iron skillet will do. Whenever my mom hauled out the waffle iron (always on a weekend morning, and certainly never for dinner), breakfast just felt fancier, more fun.
Then there's the savory part. Taking something generally meant to be dressed with syrup or jam (or somewhat disturbingly – at least to me – with sugary fruit and whipped cream) and topping it instead with something salty, even meaty, and definitely dinnerish.
Savory waffles is a bit of a misnomer. They're not overly salty and don't contain chicken stock or any other umami flavor. They're just less sweet, a little saltier and more open to pairing with a savory topping. Fresh herbs give them an extra layer of interesting. Some recipes call for using corn meal along with flour, but I feel this takes you down a cornbread path that I didn't want. Instead, I took a page from the French crêpes notebook. The difference between sweet and savory crêpes is that the latter includes buckwheat flour in the mix; it adds a similarly rustic note without going all cornbread.
Savory Waffles with Mushrooms and Braised Veal
Serves 4
---