A new baking trend: The savory cookie
(Read article summary)
Cookies don't have to be served as a dessert or with coffee or tea, they can also be a nice party appetizer, or a tasty snack. Here are seven savory recipes for cookies sure to tickle your taste buds.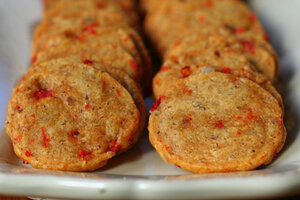 The Runaway Spoon
Can't decide if you're craving something salty or sweet? These seven cookie recipes will satisfy all your taste buds with their unique flavor combinations.
The Food Channel reports that savory cookie crackers are a new emerging food trend. While they may never catch on the way food trucks, cupcakes, or "froyo" (frozen yogurt) have, who could complain about ham and Gruyère or potato chips baked into a cookie?
1. Ham and Gruyère thumbprints from Martha Stewart
Though the recipe is a bit complicated (it requires a pastry bag) these cookies will be worth the trouble. Finely shredded ham and cheese are mixed into the dough, and a bonus cube of cheese is melted right on top.
2. Apricot, cornmeal, and sage cookies from Epicurious
Sage may not be your usual go-to cookie ingredient, but the combination of savory and sweet gives these crowd-pleasing cookies an amazing and unique flavor.
3. Olive oil cookies from The New York Times
Olive oil cookies have a cakey interior and a crispy surface. Olive oil has a powerful flavor when baked.
4. Italian cheese cookies from Kayotic Kitchen
Made with the simplest of ingredients, Parmesan, rosemary, sundried tomatoes, and a dash of cayenne pepper, this is a unique example of ingenious Italian cooking.
5. Seaweed cookies from David Lebovitz
Seaweed might sound a little weird...OK really weird, but the "seaweed" aspect of the recipe is actually seaweed salt (and regular sea salt can be substituted). Add a handful of finely chopped olives or nuts to the dough for a terrific pre-dinner bite.
6. Potato chip cookies from Smitten Kitchen
These cookies have to be good; they have potato chip right in the name. With a crisp texture and buttery flavor full of vanilla, pecan, and salt, there's nothing like them.
---