Summer bounty: Tomato fennel soup
(Read article summary)
Sauté and simmer tomatoes from the garden, or the market, until they burst to make this tangy soup.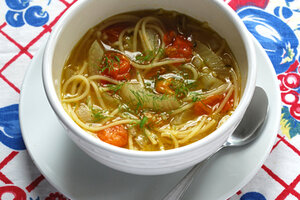 Blue Kitchen
Every summer, it's the same thing with our tomato plants. Nothing, nothing, nothing and then wham – tomatoes by the boatload. This summer, the timing coincided with having a leftover fennel bulb from last week's caramelized fennel cooking adventures that wasn't getting any younger.
Tomato Fennel Soup seemed like the obvious answer – except just about every version we found involved canned tomatoes; and most of them involved puréeing. I wanted something quick and easy, something a little on the rustic side. And I wanted to see the ingredients I was eating. So I improvised.
Not that I'm totally against puréed soups. More than a few have been featured on these pages, from Julia's Potage Parmentier to Marion's Cold Cucumber Avocado Soup with Radish Garnish and Strawberry Gazpacho and two different vichyssoises, one with watercress, the other with green garlic. But as I said, I wanted to see what I was eating this time.
---