Cookbook review: Bocca by Jacob Kenedy
(Read article summary)
'Bocca' by Jacob Kenedy is a celebration of Italian food and its rich flavors.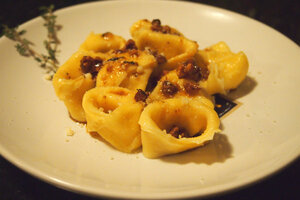 Lane Brown
The value of a good cookbook can be recognized in a couple of ways. First, there is the immediate temptation to sit down and read it cover-to-cover like a good novel. Second, is the number of pages you dog-ear before you even shop for ingredients. Planning for the review of Jacob Kenedy's Bocca cookbook (Bloomsbury, 2011, $45), I started to thumb through the book, realizing only after 20 minutes of absorbed page turning that I had marked nearly two-dozen recipes to test.
Unfortunately, I had to winnow down the list to a reasonable number to share with friends who would be joining us to cook together, lending us their kitchen in Boston's North End neighborhood. I have a perfectly good kitchen of my own, but diving into Kenedy's rich Italian cuisine seemed much more appropriate in the city's best-known Italian neighborhood.
We selected the Ricotta Tortelloni with Burnt Walnut Pesto, a dish that Kenedy – the noted chef of the acclaimed London restaurant Bocca – identifies with the Puglia region of Italy. The book divides recipes into 12 different chapters, ranging from 32 pages devoted to raw dishes (vegetables, meats, seafood), all the way to nearly two-dozen pages devoted to drinks and the rules of the card game Posso. Each recipe includes the region where the dish hails from, as Kenedy addresses the broad selection of Italian food varieties that make it hard to "pin down" exactly what defines Italian cuisine.
---