How to make plum jam
(Read article summary)
This plum jam recipe is easy enough to make on a weeknight if you're an experienced jammaker, or on a weekend if you're a novice. You'll enjoy the sweet tart taste of summer all winter long.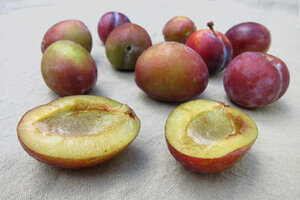 The Rowdy Chowgirl
Last week the plums started arriving at work, in bags and baskets, distributed to various strategic places in offices and common area. Piles of fruit, in tones from deep purple to a delicate mottled green, enticing all of us to stop and nibble on one or to grab a handful for later.
It is plum season in Seattle, and so many people have trees in their yard producing a bountiful harvest of fruit. My plum trees are old and gnarled, covered in lichen. I haven't seen any fruit from them in years. They are still beautiful, though useless. So when one of my coworkers, perhaps with a tone of slight despair over the quantity of fruit his trees were producing, offered to bring me a whole bag of plums, I eagerly accepted. I would make jam, I said, and would bring him back a jar of it.
The plums duly arrived the next morning. Ripe fruit does not wait, so I stopped on the way home for some extra lids and pectin, and got out my canning tools.
I have made enough jam by this point to know that it can be done in a few hours on a weeknight, should the need arise. But that is without any dallying, or I will end up still in the steamy kitchen, sticky-haired and cross, after my usual bedtime.
So without loss of time, I gathered up jars and rings and canning utensils got them in the dishwasher. And I filled the big canner and put it on the stove, as that much water takes nearly forever to come to a boil.
---