Italian plums pair perfectly with grilled pork chops
(Read article summary)
Brine a few pork chops, season with tarragon and garlic, and grill them up with Italian plums for a smokey, seasonal taste of late summer.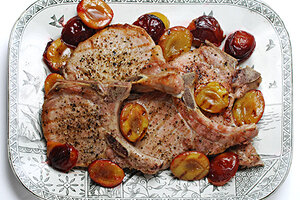 Blue Kitchen
In my working class family, meat was strictly the cheap cuts. When I was growing up, beef was chuck turned into burgers or meatloaf or spaghetti sauce – or the occasional pot roast, slow cooked so the fat melted into it and the toughness cooked out of it (as much as it does). Chicken was chicken, all of it relatively inexpensive back then, cooked and consumed with the skin on. And pork was most often chops, well marbled with fat before that was even a term used in households. Which probably explains why I like meat so much.
The cheap cuts are where the flavor is, in every juicy, chewy, sometimes stringy bite. Home cooks have known this pretty much forever and have developed techniques to bring out that flavor while taming the toughness that often accompanies these cuts – is indeed built into their muscle fiber.
Some of that big flavor and most of the juiciness comes from fat. And that's a problem when it comes to pork chops. Pork producers have worked hard at slimming down their pigs in an effort to make pork "the other white meat," closer to chicken in fat content than to beef. And they have succeeded. Some cuts are as low or even lower in fat than chicken. But the success comes at a cost, particularly when it comes to pork chops. With so much less fat marbled through the meat, chops often cook up dry and tough. Braising chops in liquid sometimes helps, but not always.
Brining chops – soaking them in a salt water solution for several hours before cooking – is a more reliable way to restore juiciness and tenderness. Brining is something of a balancing act, though. Besides the salt, sugar is required for the process. Too much of either or both can make chops taste like ham. So can brining meat for too long.
For this recipe, I took a conservative approach, both with ingredients and timing. The resulting chops were tender and juicy, with no hint of hamminess.
---