Chicken and bacon pot pie with sweet potato crust
(Read article summary)
Celebrate the flavors of fall: chicken, caramelized onion, sage, and sweet potato in a creamy homemade pot pie.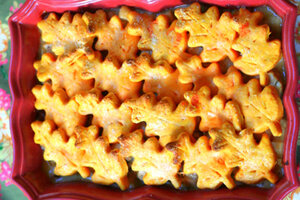 The Runaway Spoon
Autumn is officially here, though the weather may be lagging behind a bit. I saw my first lovely russet-hued oak leaf blowing across the patio the other day. And I am ready. I am ready for soups and stews, winter squash, apples, pears and maple syrup. I am ready to get the soft blanket out of the linen closet, to curl up on the sofa with a warm mug of something steamy. I know that, theoretically, here in Memphis sweater weather is a while away, and the coat will probably stay in the closet until Christmas. But I can capture to the feeling of fall in the kitchen. And fall means comforting, classic cooking.
Creamy pot pies are a perfect homey comfort food. But I worry that the concept has been tainted by years of bad, processed, pre-packaged and even fast food versions. And recipes that call for condensed soups and canned chicken. None of that sounds the least bit appealing to me. Now when you mention pot pie, many people get that glazed over look, imagining the foil pan of gloopy, doughy, microwaveable mess. For some people I know, pot pie is no longer a dish they make with pride, but a guilty secret from a box they only eat when no one can see them. What a shame.
Ah, but freshly made pot pie, with quality ingredients and a homemade crust will warm your heart and your tummy. I created this version to showcase the flavors of autumn, with a unique sweet potato crust that is both delicious and beautiful. I streamlined the filling so the unique crust shines and each of the carefully selected ingredients meld together for a perfect fall flavor. Tender chicken, sweet caramelized onions, salty bacon and woodsy sage, the herb that speaks to me so strongly of fall.
Chicken and Bacon Pot Pie with Sweet Potato Crust
Serves 6 – 8
For the Filling:
4 boneless, skinless chicken breasts
Olive oil
10 strips of bacon
1 medium yellow onion (to make about 2 cups diced)
2 tablespoons butter
3 tablespoons flour
1-1/2 cups chicken broth, at room temperature
1-1/2 cups whole milk, at room temperature
1 tablespoon chopped fresh sage
1/4 teaspoon nutmeg
Salt and freshly ground pepper
---