Last chance tomatoes in a Burmese-style salad
(Read article summary)
Even with a chill in the air, tomatoes are ripening on the vine in the garden.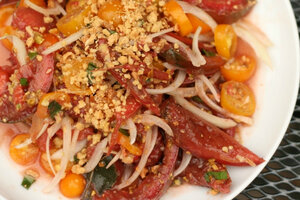 The Asian Grandmothers Cookbook
Supposedly, summer bade us farewell several days ago.
The signs are all there: the sun dips lower in the sky, shadows lengthen, and the occasional nip in the air gently reminds me that summer is winding down and autumn is nudging its way in.
However, all around me, nature is playing tricks on me. Blackberries still peek out from their brambly bushes. The Seattle sky remains clear and blue, with daytime temps lingering in the 70s. And the tomatoes in my dad's garden continue to grow plump and heavy on the vine, their green hue merging into red.
Don't get me wrong, I'm not complaining. I'm relishing each day I can still bare my legs and zip out the door without a coat on. And with every satay stick I grill on the barbecue, I'm hoping it won't be my last just yet.
This past Saturday, we took a ferry across the Puget Sound and spent a sunny day in Poulsbo where we ate fish and chips al fresco and my son chased seagulls around the marina. The next day, I turned my dad's ripe tomatoes into a refreshing Burmese-style salad. It was a lovely way to commit the last flavors of summer to my taste memory.
Truth be told, I'm not ready to say goodbye.
And you, how are you stocking up on summery memories?
Burmese-Style Tomato Salad
---