Apple fritters
(Read article summary)
Crispy and covered in a sugary glaze, apple fritters are a sweet way to get your 'apple a day.'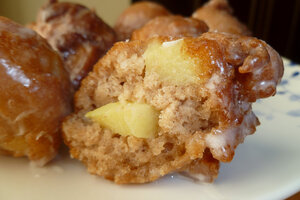 The Pastry Chef's Baking
I love apples. I eat one almost every day as one of my fruit servings. Fujis are my favorite but I'll eat almost any other kind as long as the texture isn't mealy (Red Delicious is a nonstarter – not crisp enough). Apples are also one of the few fruits I'll bake with so I was quite open to this recipe for apple fritters (meaning: "Deep fried and I can pretend it's good for me because it's got apples in it? Winner!")
The batter was easy to put together. Make sure your oil is hot enough or your fritters will absorb too much grease while it's frying. Don't overcrowd the fritters in your pan and I recommend making them small. I used an ice cream scoop to drop what was supposed to be uniform-size balls of fritters into the hot oil but let's just say, I got the rustic look on these whether or not I was trying to. But that's OK, they're not meant to look picture perfect.
I do recommend frying these long enough to make sure they're cooked on the inside. The outside will brown quickly but keep frying them an extra couple of minutes or so to make sure the insides are cooked. You also want the outside to be a bit crispy. If you don't fry them long enough, they'll be brown but will still be on the soft side when they cool.
After frying, let them drain on paper towels then cool slightly. Cover or dunk in the glaze and let set. These are best eaten soon after they're made. I only had a couple and tried saving the rest but they softened up too much the next day, especially with the glaze. But fresh out of the fryer, they were good.
Apple Fritters
From Seemingly Greek
---