Cookbook review: Cake Balls
(Read article summary)
'Cake Balls' by Robin Ankeny and Charlotte Lyon offers colorful step-by-step photo guides for creating the latest fad in sweet desserts.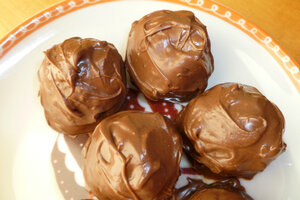 The Pastry Chef's Baking
Have you tried a cake ball yet? According to Robin Ankeny and Charlotte Lyon, the founders and owners of the Cake Ball Company and cookbook authors of Cake Balls: Amazingly Delicious Bite-Size Treats, cake balls are "crumbled bits of moist cake blended with rich icing, rolled into a ball, and then dipped in a deliciously wonderful chocolate coating."
Think of them as a truffle-looking confection with endless flavor combinations. A cake pop is similar but has a lollipop stick stuck through it or, if you use a cake pop pan, it can also be a small ball of cake enrobed in chocolate. Cake balls seem to have become the latest craze in the confection world with the lofty possibility of replacing the cupcake craze. Small, versatile and sweet, they're portion-controlled treats that lend themselves to a variety of flavors and occasions.
While I have jumped on the cupcake bandwagon with enthusiasm, I admit I had never tried a cake ball (or cake pop) before. But with an eye toward becoming more educated, I made my first foray using the "Cake Balls" cookbook. It gives a really nice introduction as to what cake balls are then has a basic chapter that most cookbooks have in talking about baking basics and equipment. The key chapter to read is about making cake balls, from baking the cake and making the icing to crumbling the cake, mixing cake crumbles with icing, rolling into balls and dipping, drizzling and decorating with chocolate.
Don't skip this chapter as it also has tips and troubleshooting tricks should you flounder in cake ball-making.
There are three basic cake recipes in the book: chocolate, vanilla, and yellow cake; as well as three basic frosting recipes: chocolate, vanilla, and cream cheese. Once you get past the basics, the real fun of the cookbook begins. The recipes are chaptered somewhat by flavors: "Classics" such as Birthday Cake; "Chocolate Lovers" features Chocolate Salty Pretzel; "Fresh and Fruity" includes Strawberries and Cream; festive "Jingle Balls" boasts Creamy Eggnog; and "Fun with Cake Balls" concludes with Tres Leches Cake Balls.
Reading the recipe titles alone made my mouth water and reach for a mixing bowl. Beyond the basic recipes, the rest of the recipes are reminiscent of "semi-homemade" type of baking in that they start with a base cake mix and rely on add-ons for the flavor combinations of the finished product. But the beauty of the recipes is you always have the option of making your own cake from scratch rather than a mix. The recipes merely suggest what type of cake you should start with to make the cake balls.
---