Fontina mac and cheese
(Read article summary)
Use fontina cheese, and maybe even toss in a little gruyere to make this baked pasta dish even cheesier. Add chicken or meatballs for protein, or a vegetable like broccoli or peas, and top the whole thing with breadcrumbs and grated parmesan.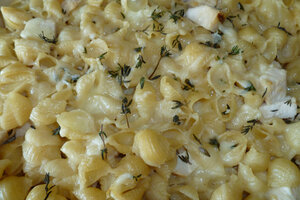 The Pastry Chef's Baking
This is a recipe I found on Pinterest that isn't very low calorie or particularly healthy but is easy enough for me to cook and portion control. I chose it primarily because it uses up the rest of the fontina cheese I had bought for the Gnocchi Mac and Cheese I made earlier (boy, that cheese was good for three recipes). I also threw in some of the remaining gruyere from the same recipe since, to me, cheese is cheese and my taste buds aren't that discerning when it comes to rich, creamy pasta. Lastly, I added some diced chicken breast for protein and some thyme for flavor.
I liked this recipe in that it's quick enough to make on a weeknight after work and it's easy to pack for lunches for the rest of the week or freeze in individual containers for later. When I don't want to eat takeout or processed frozen Lean Cuisines, this is the type of dish I'll cook. For more creative cooks with a wider array of tastebuds, this easily lends itself to more add-ins like broccoli, peas, carrots, meatballs, sausage, ham, etc.
I made a couple of modifications to this recipe. The original recipe called for a pound of pasta shells but I thought that might be too much given the amount of sauce so I only made about 12 ounces. I'm glad I cut back on the pasta as this didn't make as much sauce as I expected. I also skipped the Panko and parmesan cheese combination on top and simply grated Parmesan Reggiano over it. It turned out OK.
---