Vegetable lo mein and pork egg rolls
(Read article summary)
These easy recipes will yield fresh food reminiscent of Chinese takeout. Use spaghetti for the lo mein noodles, and store-bought egg roll wraps to keep the preparation simple.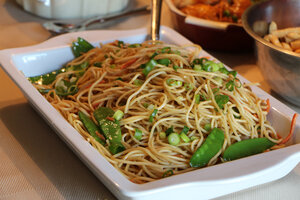 The Gourmand Mom
For our ninja-themed party, I served a crowd-pleasing selection of Asian dishes. Though ninjas may be most closely associated with Japan, I planned the party buffet around a more familiar Chinese takeout menu, which I was certain would be enjoyed by both the adults and children at our event.
I made the sweet and sticky orange chicken, which I shared with you in a previous post, along with a mountain of homemade pork egg rolls (and a few veggie ones for our vegetarian guests) and a big batch of super simple vegetable lo mein. Grilled teriyaki beef skewers, sprinkled with toasted sesame seeds and jasmine rice completed the feast.
I'm sharing the "recipes" for both the lo mein and egg rolls below, though I should note that the batch I made was quadruple of what I'm sharing below and in the flurry of party-prep, I didn't take exact measurements or record times as I cooked. Use the recipes as a guide, but as always, taste as you go. It'll be "right" when it tastes good to you. And be creative with the ingredient lists. You can substitute any sort of veggies in the lo mein and add meat or seafood, if you desire.
Focus on Technique – How to Julienne
Julienne is a type of culinary knife cut, wherein the resulting pieces are long and thin, roughly the size and shape of a matchstick. A julienne cut is often used to make shoestring potatoes or can be used to cut a variety of veggies for sushi, soups, or garnish. A julienne cut appears most pleasing when the pieces are a uniform size, shape, and length.
To achieve a nice, even julienne, start by squaring your fruit or vegetable. To do this, cut off the rounded portion of one side. Lay the flat side down onto the cutting board, then slice off the rounded part of each side. Turn the fruit or vegetable to cut off the remaining rounded side. Then, thinly slice the fruit or vegetable, to about 1/8-inch thickness. Finally, stack the slices and carefully cut into matchsticks, about 1/8-inch wide.
*If you were to cut the matchsticks into teeny tiny 1/8-inch cubes, you would have a cut known as brunoise, pronounced broon-wah.
---