Shrimp fideos with red bell pepper and edamame
(Read article summary)
Fideos are thin toasted noodles used in Spanish soups and stews. Add some shrimp, edamame, and a red pepper to make a simple, tasty dinner.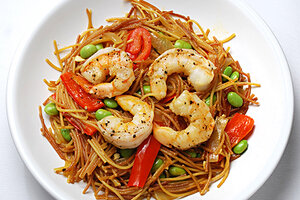 Blue Kitchen
One of the things I love about cooking is how recipes for the same essential dish can be so different. For fideos – short, thin noodles toasted and then cooked into Spanish (and Italian and Mexican) stews and soups, this is spectacularly so.
Fideos is actually the name of a specific type of thin noodle, most often short, slightly curved pieces. According to Joey Campanaro, chef/co-owner of The Little Owl in New York, fideos is the Catalan word for noodles, and many Spanish cooks use it instead of rice to make paella. Typically, English-language recipes call for using vermicelli, cappellini, or spaghetti and breaking it into short pieces.
The variations in fideos recipes start at the toasting of the noodles themselves. Some – the most authentic sounding to me – call for toasting them in a skillet or paella pan on the stovetop. With others, you toast them in the oven on a baking sheet. Still others would have you skip the toasting process altogether. This is just wrong; the nutty flavor the toasted pasta takes on is invaluable in this dish. And to me, if you don't toast them, you end up with just another spaghetti recipe.
Even after I'd settled on a version using shrimp, variations abounded. Saffron, no saffron. Sweet paprika, smoky paprika (or both). Tomatoes or no. Wine, brandy; fish stock, chicken stock, stock flavored with ham hocks; clams, mussels, olives….
Chef Campanaro cooked a version for Martha Stewart using fava beans. I liked the nutty flavor and bright green color they add, especially with the red bell pepper. But fava beans aren't in season right now and are a fair amount of work, what with shelling them twice. Edamame is a nice stand-in, offering the same nutty taste and touch of color. They're available frozen at Trader Joe's, among other places. As a bonus, you'll end up with more than you need for the recipe – they make a great snack. If you can't find them, frozen peas will add the color, but with a sweet note rather than nutty.
---