Stewed chicken, family style
(Read article summary)
Certain dishes set you at ease, and speak to the soul. This stew is one of them. Seasoned chicken is slow-cooked until it is full of color and flavor.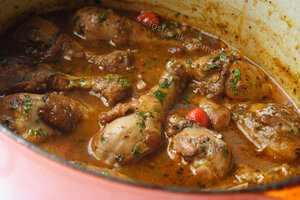 Tastes Like Home
There are certain dishes when made and eaten just set your soul at ease. They comfort and they fortify. That's what a big pot of stew does.
Perhaps stews evoke these feelings due to the process involved that results in succulent morsels and a sauce/gravy brimming with incredibly deep flavor from all of the ingredients. Such stews give you pause, they force you to slow down – to prepare them and to enjoy them.
A stew means different things for different people depending on where you are from, but for the purposes of this column, a stew means seasoned meat or poultry cooked low and slow with liquid and some flavorings that also gives color – burnt sugar, browning, tomato paste, tomato sauce, or annatto (achiote, a Caribbean spice).
One of the many things that's great about a stew is that it does not require expensive cuts of meats or poultry, actually, the cheaper the cuts, the more flavorful the stew. And you can add so many other things to a stew – vegetables, beans, peas, potatoes, and dumplings. It is a hearty dish that can feed a large family or a crowd. What's great about a stew is that the next day or the day after, it is even better!
Stewed chicken
Serves 4 – 5
Ingredients
10 chicken drumsticks or thighs
3 tablespoons green seasoning (a Caribbean relish)
Salt and pepper to taste
3 tablespoons oil
1 cup diced onions
2 cloves garlic, finely minced
1 tablespoon chopped thyme
1 tablespoon tomato paste
water, chicken or vegetable stock
chopped parsley or thinly sliced green onions to garnish (optional)
---