Apple chicken from a favorite cookbook
(Read article summary)
Sometimes it's good to dust off an old recipe and try a new adaptation. Apple chicken, cooked with caramelized onions, sweet apples, and apple cider vinegar is a perfect fall dish.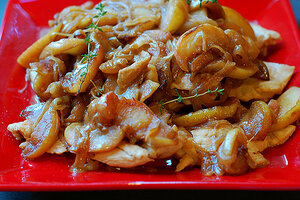 The Garden of Eating
The Silver Palate was the first cookbook I ever bought for myself. I was living in Boston, stumbling through my first year out of college and feeling rather lost, in general, when I came across it in the Brookline Booksmith. My friend, Ali, whom I'd lived with the previous three years at Wesleyan, and who is both a great cook and the daughter of a great cook, had told me good things about it so I decided to splurge.
At that point in my life, a $15 cookbook definitely counted as a splurge as I was positively raking in the cash at my $14 an hour research assistant job. And that was a big step up from my previous job where I'd made a whopping $11 an hour as a medical assistant in an OB/GYN office in order to see if nurse midwifery might be right for me.
I liked the book so much that, a few years later, after I'd ruled out both midwifery and research as careers, I bought Julee Rosso and Sheila Lukins' much-expanded tome, The New Basics Cookbook. This chicken and apple dish was one of the first recipes I tried, drawn by its combination of caramelized onions, sweet apples, apple cider vinegar and cream. I've since made it many more times as I am a sucker for the combination of creamy, sweet, and piquant that it offers.
It's been several years since I've made it but I happily dusted it off last week after a field trip with my son's class to the Stone Ridge Orchard. It was a surprisingly glorious fall day that may be the last warm spell we get until 2013 or, maybe not, given the craziness of the weather nowadays.
The weather has since turned decidedly nippier – it seems that real fall is upon us now. But the chilly air and falling leaves are a perfect backdrop for a warm, hearty dish like this. I love the way that caramelizing the apples turns them wonderfully creamy and sweet.
It's easy to make and goes well with rice – the lovely sauce needs something to soak it up. Try it with some cider-glazed delicata squash or baked sweet potatoes. The slightly adapted recipe follows – I've simplified it a tiny bit to make it less fussy and a little less time-consuming.
---