A conversation with Luisa Weiss, The Wednesday Chef
(Read article summary)
Food blogger Luisa Weiss, also known as The Wednesday Chef, has published her first book, 'My Berlin Kitchen.' Here she answers a few questions from fellow blogger, Caroline Lubbers.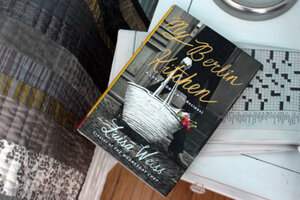 Whipped, The Blog
In 2007, while visiting my friend Mav, she suggested that I start a blog. "What would I blog about?" I questioned. "Food, of course" she replied. Before I left the comfort of her Maine apartment, the name Whipped had popped into my head and I had begun searching the blogosphere to get my feet wet.
I clicked here and there, drawn in by photos, personable voices and recipes. So many delectable recipes. Some of my early favorites and regular reads were Pinch My Salt, Orangette, and The Wednesday Chef. It was such a new phenomenon to form a relationship with someone you never met. Sometimes e-mails were exchanged, we added links to each other's sites and occasionally I wondered if we would ever meet in person.
I've always had a particular affinity for Luisa who writes the blog The Wednesday Chef. As her many followers agree, Luisa's honest, conversational voice is easy to read. She has a way of expressing and exploring her vulnerabilities that contradictorily leads you to admire her strength. There are some similarities in our lives that always led me to believe we were kindred spirits.
For the past months, I have anxiously awaited Luisa's new book, My Berlin Kitchen. I was fortunate to receive an advance copy. For a week, I was short on sleep, staying up late to fit in just one or two more chapters.
In her new memoir, Luisa's approachable style is intact but I think that her writing is even better. She guides us through the chapters of her life, sharing an unusual multi-cultural childhood and the story of a heart-swelling romance. In between, you'll find heartache, triumph, sadness and discovery. At the end of each chapter, Luisa treats the reader to a recipe that is closely tied to the writing.
---