Halloween pumpkin cookie balls
(Read article summary)
Oreos combined with a block of cream cheese and then rolled in chocolate? Surprisingly good!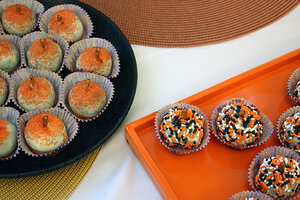 Whipped, The Blog
Though I ate my share of Oreos growing up and though I've had them swirled into a flurry or two, I don't think I have ever bought a package of them. I love baking from scratch and most of the baked goods coming out of my kitchen involve a more old school base of flour, sugar, butter, and eggs. At an event last week, I was introduced to my first cookie ball and not only did the signature Oreo flavor tickle my nostalgia nerve, the decadent bites nearly unplugged my will power.
It is always fun for me when my work life and blog life collide. I had the opportunity to visit the Kraft Food Kitchens in Glenview, Ill., where I got a sneak peek behind the scenes and had the pleasure of meeting more than a dozen mom bloggers. I was invited by the hosting group to talk with the mom bloggers about food photography. I found that I also had a thing or two to learn from this group of in-the-know mom writers and product reviewers!
Between sessions, we were served lunch prepared by the Kraft staff. Only at a blogger gathering would nearly everyone capture a photo of the spread before digging in.
---