Stuffing recipe: Herbed chestnut stuffing with cranberries
(Read article summary)
Chestnuts add a sweet, nutty, and chewy flavor to classic bread stuffing. Add dried cranberries and fresh herbs to infuse lovely aromatic flavors.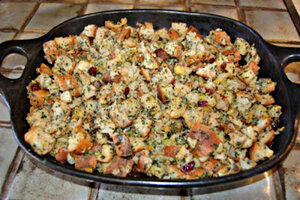 The Garden of Eating
One year for Thanksgiving, I added chestnuts to my Aunt Katy's classic stuffing recipe because I love their uncommon taste and texture – slightly sweet, nutty, and chewy. I also threw in some dried organic cranberries to spice things up a little bit.
A few notes: Peeling fresh chestnuts is a huge chore! At first I thought it was odd that all the chestnut stuffing recipes called for canned chestnuts but after wrestling with the hairy little buggers for over an hour, I now understand why. I have not done a taste test comparison of the fresh vs. canned but my guess is that it is probably worth the extra effort required for fresh chestnuts. They sure are pretty, though.
Any white bread will do. Some people like the lighter sandwich type bread and others go for slightly crustier loaves. I used two sweet loaves, as opposed to sourdough. Don't skimp on the herbs! I threw a ton of fresh parsley, sage and thyme in and it lent a lovely herby flavor. The thyme is particularly wonderful.
I used a combination of chicken stock and egg to achieve the desired moistness level. I also did a vegetarian version for my brother-in-law who does not eat dairy and my sister-in-law who does not eat meat! The only changes were that I sautéed the celery and onions in olive oil, wet the stuffing with vegetable stock, instead of chicken, and did not dot the top with butter before baking. The veggie version is very good and a little healthier for you, too.
Herbed chestnut stuffing with cranberries
1 lb. white bread cut into one inch cubes
1 cup coarsely chopped roasted or boiled chestnuts
Half a stick of butter (4 tablespoons)
---