Sweet potato casserole, Southern style
(Read article summary)
Southern candied sweet potato casserole with pecan streusel will be a sweet spot on your Thanksgiving menu.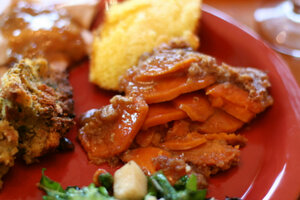 The Runaway Spoon
Sweet potatoes are a foregone conclusion on the Southern Thanksgiving table. I would never consider serving mashed white potatoes at the big meal. For most of my life, I only had sweet potatoes at Thanksgiving, though a pie may have snuck in at some other time during the year. I have now discovered the joy of sweet potatoes, though, and eat them year-round in all sorts of ways, sweet and savory. But on Thanksgiving, there is just no question.
I grew up with the marshmallow topped version, which never really did much for me. I think that may be the reason I never explored sweet potatoes much further. When it came my turn to contribute to the Thanksgiving feast though, I worked out a dish of Sweet Potatoes with Cider, Maple and Orange that has been the standard on our table for many years. But every once in a while, change is good.
There is however, a strange feeling that comes up. I've made that same sweet potato dish for a decade at least, and everyone always tells me how much they enjoy it. And when I presented this new version, it got raves. "Best sweet potatoes I've ever had." I love it when the family enjoys what you cook and take great pleasure that I have done right by them. But then there is that niggling sense in the back of my mind, "What was so bad about the ones I've been cooking you for all these years?"
Southern Candied Sweet Potato Casserole with Pecan Streusel
Serves 8 – 12, depending on how much food is on the table!
Yes, these potatoes are rich. I don't want to hear it. It's Thanksgiving, live a little!
For the Sweet Potatoes:
8 medium sweet potatoes
1/2 cup (1 stick) butter
1 cup firmly packed light brown sugar
1 cup bourbon [editor's note: if seeking a substitution, try 1 cup apple cider]
---