Autumn sweet potato salad
(Read article summary)
Looking at an upcoming week of turkey sandwiches? Make this simple sweet potato salad ahead of time and have an interesting side dish ready to go.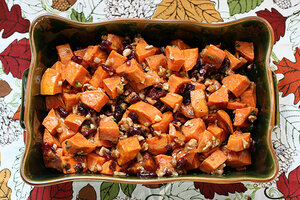 The Runaway Spoon
Part of the joy of Thanksgiving for me is the leftovers. I cook a turkey bigger than my family could ever eat on the day, I make huge amounts of dressing, I even cram some in a loaf pan to bake so it can be sliced to fit on a sandwich. My shopping lists include good bread, cheese and condiments for next day sandwiches. I've made fig, bourbon and vanilla bean jam and rosemary pear butter months ahead to spread on those sandwiches.
After the fun of a formal meal, it's nice to gather the next day (usually at someone else's house, lucky me) very casually, in jeans and comfy sweaters, to enjoy our own sandwich creations.
If the leftovers are a big part of your tradition, or if you have guests around the house through the weekend, add this salad to your plans. As long as you are buying (and peeling) all those sweet potatoes for the big meal, it's worth the little extra effort to have this stashed in the fridge.
It is an absolute dream next to a turkey sandwich, better than a bag of chips, and looks like you really went that extra mile. Earthy sweet potatoes, crunchy pecans, tart cranberries and rich maple syrup create a symphony of fall flavor. If your fridge is full to bursting, you can store this in a ziptop bag in a crisper drawer to take up less room.
A word about process. Don't be tempted to do that TV chef-y thing and put the potato cubes directly on the baking sheet, casually drizzle over oil and roast. When you do that, there is inevitably too much oil, and the potatoes steam rather than roast, so they don't get those nice, crisp edges, but are mushy and soft.
Lightly toss the potatoes with a small amount of oil in a bowl, rubbing around with your hands to get a little coating on each cube, then lift the potatoes out of the bowl onto a baking sheet (I line mine with non-stick foil for easy cleaning), leaving any extra oil behind. I do this with all my roasted vegetables.
---