Mini pumpkin pies with gingerbread graham cracker crust
(Read article summary)
Mix it up this Thanksgiving with mini pumpkin pies. Find gingerbread graham crackers for the crust of a lifetime, and top with whipped cream for a fun and decadent holiday dessert.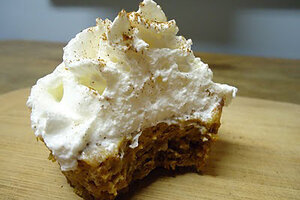 Eat. Run. Read
On Sunday I celebrated pre-Thanksgiving. And what's Thanksgiving without desserts? I am all about Thanksgiving desserts (of course). At home, we usually take a break between dinner and dessert, maybe go for a walk to let the turkey and stuffing settle and make room for pies and fudge and cheesecake. (Oh my!)
I wanted to make a play on pumpkin pie… something good for a buffet table… thus, mini pumpkin pies!
The problem with pie is the crust (dun dun dunnn) – it's kind of a throwaway component. When we were little, my sisters and I always left the pie crust on our plates. But graham cracker crust is something else entirely. Is there a single person out there who doesn't love graham cracker crust? No, no there is not. Because it is fantastic and easy to make! And this graham cracker crust takes its graham crackery-ness to a whole new level.
That's because Safeway, for once, had what I needed and more. Next to the regular graham crackers there sat a box of gingerbread graham crackers. Done and done. Best graham cracker crust ever.
---