Victorian pumpkin pie
(Read article summary)
No Thanksgiving table is complete without a classic pumpkin pie. For a retro variation, try this recipe from the late 1800s.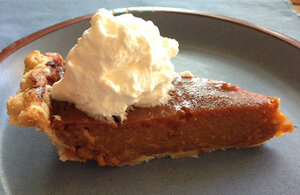 Kitchen Report
On most American Thanksgiving tables, pumpkin pie is as much a presence as the turkey centerpiece. In modern forms it may appear as a flan, a cheesecake, or a frozen whipped delight.
In a Victorian-era cookbook, "The Art of Cookery: A Manual for Home and Schools" by Emma P Ewing, I found a recipe for a pumpkin pie that surprised me for two reasons: the heavy use of molasses and no cinnamon.
The cookbook belonged to Minnie P. Weygandt, the cook for Mary Baker Eddy, the founder of The Christian Science Monitor. Minnie had inscribed her name, the date (Aug. 24, 1899), and the place, "Pleasant View," Concord, N.H., in the flyleaf. Pleasant View was the home of Eddy at the turn of the 19th century and one can assume that Minnie used this cooking guide quite a bit as she prepared meals for at least a dozen people.
Being a cook for a large household in the late 1800s was no easy task.
"When I was cooking for Mrs. Eddy then we did not have the convenience of a gas stove," writes Minnie in her reminiscences that can be found in the archives of The Mary Baker Eddy Library in Boston. "All the cooking was done on a very small coal range, which was later supplemented by a two burner gas plate kept on the end of the stove. Many times we worked over that inadequate stove until eleven and twelve at night during the canning and preserving season." (p. 40)
---