Cookbook review: Lidia's Favorite Recipes
(Read article summary)
This hearty ziti and sausage dinner layers flavors of Italian sausage, onion, fennel bulb, crushed red pepper, tomato, and Parmesan deliciously. It's adapted from 'Lidia's Favorite Recipes.'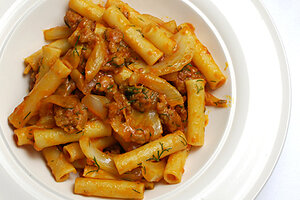 Blue Kitchen
When does Lidia Matticchio Bastianich sleep? The star of PBS's popular "Lidia's Italy," she is also chef/owner of restaurants in New York, Pittsburgh, and Kansas City. She's a partner (with son Joe, Mario Batali and Oscar Farinetti) in New York's wildly successful Eataly. She and son Joe have a winery in Italy. Lidia and her daughter Tanya design a line of cookware (they've also launched a line of pastas and sauces). Oh. And in her spare time, she writes cookbooks.
Her most recent is "Lidia's Favorite Recipes: 100 Foolproof Italian Dishes, from Basic Sauces to Irresistible Entrees," published in October 2012. She calls it her "most accessible cookbook to date, a gathering of recipes that have become her go-to meals for her very own family." These are not the deconstructed or re-imagined recipes you'll find in some chefs' cookbooks (not that there's anything wrong with that approach). The recipes here reflect yet another of Lidia's roles, one she takes great pride in – that of Italian grandmother or nonna.
Much as grand-mères are responsible for the simple, perfect meals that I most cherish in French cuisine, nonnas have long been the source for the best of traditional Italian food. They get meals on the family table and pass their culinary skills and techniques on to daughters and granddaughters, keeping classic recipes alive. You'll find many of them here, from veal osso buco to escarole and white bean soup, olive oil mashed potatoes, eggplant Parmigiana and savory seafood stew. "Lidia's Favorite Recipes" is particularly rich in pasta dishes. That's where I decided to start exploring.
---