Gingerbread cake with cinnamon cream cheese frosting
(Read article summary)
This cake is perfect for a party or holiday meal. Spend some time baking it with a friend or family member and for an extra set of hands, and an extra special slice of bonding.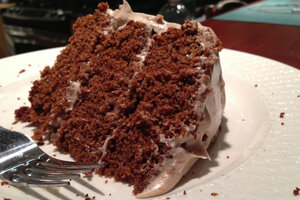 Eat. Run. Read.
When my friend Jess and I get together, some sort of baking is almost inevitably going to occur.
We contemplated our choices and pondered the possibilities – coconut or chocolate? Maybe something fruity? Or how about something spicy? We settled on a gingerbread cake with cinnamon cream cheese frosting because (a) 'tis the season (b) Jess has never had gingerbread before, which is compounded by (c) nor has she cooked with molasses – one of my favorite ingredients!!!
We found our recipe on Gojee (oh the wide, wide world of food/recipe apps) and it turned out quite well. The original recipe was for cupcakes, but we made it in cake form and it worked perfectly. Unlike many gingerbreads, this isn't dense at all – it truly is a gingerbread cake recipe. And the frosting, oh the frosting. Cinnamon cream cheese need I say more? Swoon.
I usually prefer to bake solo (as in, other people can watch, but only one cook at a time!), but Jess is one of the few (only?) people I can actually bake with. We work well together, trading off measuring and mixing and sticking our fingers in the batter and cleaning up as we go. She likes mixing the frosting, while I prefer full control over the frosting process.
After baking and cooling and frosting, we let our glorious cake solidify in the fridge for a grand total of 30 minutes before we couldn't wait anymore … cake time! A serving suggestion: scoop some pumpkin ice cream on top (not pictured ... we ate it too fast). Trust me.
This cake would be great to bring to a holiday party, maybe decorated with some red and green sprinkles or a sprig of holly?
---