Orange maple glazed rosemary chicken
(Read article summary)
Tis the season of holiday eating. Try this simple orange glaze over chicken for a healthy meal.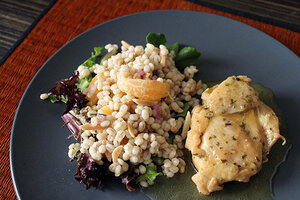 Whipped, The Blog
I enjoyed a rare treat the other day. For over an hour, I was alone in the kitchen without any distraction. Baby Whipped's unexpectedly long nap allowed me the freedom to experiment and create a few new recipes. Because I was tied to the house, I had to make do with what was in the pantry. And, because we indulged throughout our Thanksgiving break, I wanted to keep it lean.
Sometimes when spending creative time in the kitchen, I like to choose a few key ingredients and make my own version of the show "Chopped." What can I create with the featured items I find on hand? For this recent challenge, I dug a bag of pearl barley from the very back of my cupboard. I rarely have juice in my house but remembered that I had some leftover fresh squeezed orange juice.
A quick peek in the crisper drawer revealed no fresh veggies or herbs. A visit to my outdoor herb garden led to my discovery of some robust rosemary. So, the first three things on the counter were barley, orange juice, and freshly snipped rosemary. Let the experimentations begin!
A barley salad was my initial concoction. While the barley was cooking in broth, I made a rosemary citrus vinaigrette. To add a little texture and excitement, I peeled the clementines on my counter and tossed in the sections. The recipe was good but I want to make a few slight adjustments and will share it with you in a future post. The chicken was a quick add-on keeping with my rosemary orange theme.
---