Chipotle mashed sweet potatoes
(Read article summary)
Canned chipotle peppers in adobo sauce bring smoke and a little heat to this quick, sweet/savory side dish. Sliced scallions add brightness.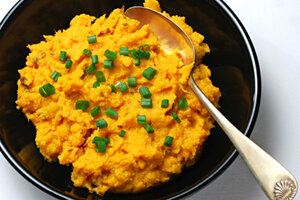 Blue Kitchen
I know what you're thinking. Sweet potatoes? Isn't Thanksgiving over? But how can you not love a good-for-you root vegetable that actually gets healthier when you add fat to it? According to Whole Foods, "Recent research has shown that a minimum of 3-5 grams of fat per meal significantly increases our uptake of beta-carotene from sweet potatoes."
Sweet potatoes aren't just kinda healthy – they top the Center for Science in the Public Interest's Best 10 Foods list. The Center calls them a "nutritional All-Star – one of the best vegetables you can eat."
They're also delicious, versatile and easy to work with. Here at Blue Kitchen, we cook with them a lot. We've used them in everything from sweet/savory Roasted Sweet Potatoes with Shallots to Sweet Potato and Pork Pierogi made with wonton wrappers, Sweet Potato Sage Pasta with Chicken and an absolute given at our Thanksgiving table, Marion's Sweet Potato Vichyssoise. These weeknight-quick, smoky mashed sweet potatoes are destined to become part of the regular rotation here, I think.
---