Roasted carrots and a spinach, roasted carrot, and fennel salad
(Read article summary)
It's the time of the year to start thinking less about casseroles and cookies, and more about vegetables and salads. Roast up some seasoned carrots for a side dish and use the leftovers in a crunchy salad for lunch the next day.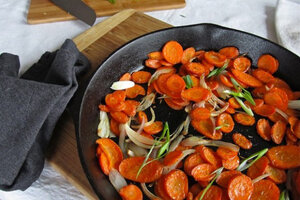 Beyond the Peel
This month I plan to focus on delicious winter salads using some easily accessible winter vegetables that are not only nutritious but delicious. After several weeks of eating rich or sugary foods, or attending one to many parties, most of us are trying to get back on track and eat better.
Salads are a great way of getting more veggies in, but they don't have to be of the iceberg lettuce variety. They can be exciting, bold and hold up to dressings overnight in the fridge and get packed up easily for lunch the next day.
Today I wanted to share this flavorful side dish that turns into a delicious salad the next day. I love leftovers that don't look like the way they did the day before. It makes me feel like I get to eat something special and new.
The kitchen notes offers some suggestions on how to make this same dish several ways using different herbs, so you can make it every week without it tasting like the "same old" carrots again.
This recipe serves 2 for dinner, but double accordingly if you have more mouths to feed or you'd like to have the lunch salad tomorrow.
Roasted Carrots
4 carrots
1 medium shallot, sliced approximately a 1/4 cup
1/2 teaspoon fennel seed, crushed
1 tablespoon each olive oil and fresh orange juice
salt and pepper
green onions sliced on the bias or chopped fresh cilantro, for garnish (optional)
Preheat the oven to 375 degrees F. Toss all the ingredients in a large bowl and toss until well coated. Place the carrots into a baking dish and bake uncovered for 30 minutes or until tender. If you like, you can broil them for the last 5 minutes of the cooking time to develop the caramelized flavor of the carrots and onions.
---