Book review, author Q&A, and salt and pepper shrimp
(Read article summary)
Ann Mah's novel, 'Kitchen Chinese: A Novel About Food, Family and Finding Yourself' celebrates life changes, Chinese culture, and most importantly, regional Chinese dishes. This special blog post contains an interview with the author, and one of her favorite recipes.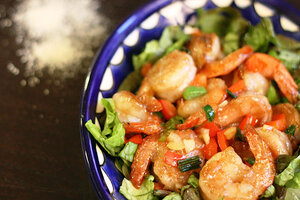 The Asian Grandmothers Cookbook
Ann Mah's debut novel, "Kitchen Chinese: A Novel About Food, Family and Finding Yourself," has all the ingredients for a successful chick lit novel. It's an easy, breezy read. It has a lovable heroine – Isabelle Lee – who has her flaws yet emerges victorious. And it offers so much more, especially for Asian Americans who hardly ever see themselves reflected in mainstream literature. Plus, the book is chock full of mouthwatering descriptions of the regional cuisines Isabelle samples in Beijing, Shanghai, and beyond.
Isabelle leaves behind debris of an ex-boyfriend and a dead-end editorial job in New York for the bright lights of big city Beijing. She moves in with her high-powered attorney sister, Claire, who helps her land a job as dining editor for an expat magazine. True to formula (and just the way I like it!), Isabelle bounces between two irresistible men, all the while struggling with her identity as American yet Chinese.
With her knowledge of the culture and language limited only to what Ann terms "kitchen Chinese" (hence the title of the book), Isabelle finds her way in Beijing's fast-paced society and reconnects with her roots with a touch of self-deprecating humor, warmth, and somewhat wide-eyed innocence.
I couldn't put the book down for many reasons. It was smart, funny and overall, a very engaging read. Three things really struck me:
1. Isabelle, with all her insecurities and self-doubts (about her identity, talents, allure, etc.) was very much like me. I could really identify with her character and I deemed her my soul sister!
2. The smattering of Mandarin words (written in Romanized hanyu pinyin) used throughout the book encouraged me to pick up Mandarin again.
---