Orange cake with dark chocolate and cream cheese frosting
(Read article summary)
This light, citrusy cake is the perfect way to celebrate the new year, a birthday, a deep abiding love for chocolate, or any occasion. A cream cheese frosting and a layer of chocolate ganache puts it completely over the top.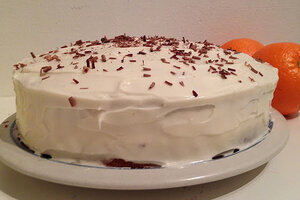 Eat. Run. Read
Sometimes people in my office travel to awesome places that most people (sane people) do not want to visit – i.e. eastern Congo, South Sudan, Chad, etc. I do not get to go … but I want to. Getting chased by a monkey while on a run in Juba? Sign me up! Lost on the way to a refugee camp in Chad? I'm in. Randomly producing a music video for an African pop star? Yes please!!! (True stories.)
For the rest of us, ever desk-bound, all we can hope is that our intrepid colleagues come back safe and sound, with good stories/pictures/video, and bring back some delicious foreign treats to share.
Just before Christmas, someone brought back Belgian chocolates from the Democratic Republic of the Congo (not to be confuse with the Republic of the Congo – yes, there are two Congos). All colonial irony aside, apparently there's still a lot of Belgian stuff in Kinshasa, and the chocolate is delicious! I had a dark chocolate and orange truffle and was suddenly reminded how good dark chocolate and orange are together.
That truffle was still on my mind as I considered my baking options last weekend. Orange cake? Hmmmm. Dark chocolate ganache? Yummmmm. Together? It could work!
---