Meatless Monday: Creamy cauliflower soup with herbed olive oil
(Read article summary)
Pack more veggies into your diet with this creamy, low calorie, dairy-free, cauliflower soup. Pair it with a grilled cheese sandwich or a quinoa salad.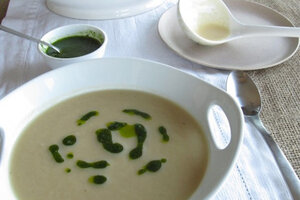 Beyond The Peel
I hope that I'm not the only one trying to pack in more veggies, but I think it's safe to say I'm not alone. Here's a super low calorie, good-for-you, packed full of flavor kind of soup that will all kinds of eaters.
I don't know about you, but that's an important thing in our house. We are both meat eaters, but vegetarian meals (some vegan) take center stage most of the time. We usually have three meat dishes a week. So out of the 35 meals a week that we eat (5 meals a day times seven days = 35), three are meat dishes. I think that's pretty good especially considering how far we've come. But the truth is, I can't sustain that with hubby unless the vegetarian meals taste amazing.
Now this is a pretty low calorie soup, so it won't keep him full for very long, but paired with a grilled sandwich or a quinoa salad it will do the trick nicely. If you're watching calories (which in all honesty we rarely talk about here, but since it is January and all) this is great for a lunch, or even a late dinner that won't do any "damage." In fact, the health benefits of cauliflower are huge and the price tag on organic cauliflower is very competitive with the regular stuff. Bonus!
This soup has no cream or dairy, yet you'd never know it. This soup is creamy and rich tasting and you won't feel like you're missing the dairy at all. I expect you'll love the simplicity and the short list of ingredients as well. Of course if you are into cheese – especially of the blue variety – I recommend melting blue cheese on crostini using broil, just before serving.
---