Cookbook Review: My Year in Meals, by Rachael Ray
(Read article summary)
Rachael Ray's new cookbook is full of pasta recipes and plenty more. Her pasta with homemade sausage and kale in roasted garlic sauce was simple enough for a weeknight meal, and delicious enough for a weekend dinner party.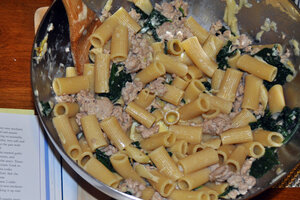 Laura Edwins/Contributor
I love cookbooks that are organized by month. Flipping through one quickly I get excited for all the cooking ahead of me, spring with fresh asparagus and arugula, summer with berries and watermelon and tomatoes, and fall's pumpkins and squashes. Rachael Ray's My Year in Meals, takes the act of marking the calendar by what you eat to a whole new level.
Ms. Ray is a celebrity chef, author and TV personality. She's the host of the daytime talk show, "The Rachael Ray Show" and "Rachel Ray's Week in a Day" on the Cooking Chanel. She has also written more than 20 cookbooks, and has her own magazine, Every Day with Rachael Ray.
The book is meant to show what Ray cooks at home, for her own family, every day. Organized like a diary, each recipe is labeled with the date Ray made and ate the dish, as well as personal notes about how often she makes certain foods, and why she chose each dish. Some days include one or two meals, like breakfast and dinner, and three or four recipes, depending on how complicated the meals were.
The format makes the book a bit complicated, and the design, with a mix of regular printed entries, and entries made to look like sticky notes or notebook paper keeps the book from being easy to flip through for inspiration. But a calendar at the beginning of each chapter lists all of Ray's meals for each month, making it easy to find new recipes at a glance.
Some readers may be interested to know the book also features a section in the back by Ray's husband, John Cusimano called, "My Year in Cocktails." Cusimano shares dozens of drink recipes; some are simple while others require special trips to the store. Despite the title, the drinks section of the book is not organized by month.
---