Bacon, mushroom-stuffed chicken breasts
(Read article summary)
Perfect for a weeknight meal, whip these chicken breasts up in about 45 minutes, with a veggie on the side, and maybe mashed potatoes to smother in the sour cream-mushroom sauce.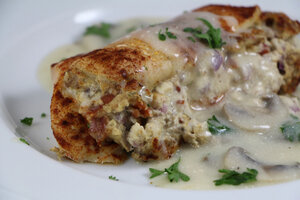 The Gourmand Mom
One evening, when my sisters and I were young, my parents left us eating our dinner at the kitchen table. My father was in the swimming pool, cleaning it from the inside with one of those large nets for fishing out fallen leaves. My mother was standing outside the pool, chatting with him as he worked. And we, my two younger sisters and I, were calmly enjoying our dinner. Calmly, that is, until our youngest sister dug her fingers into either side of the stick of butter which sat on the table, grabbing handfuls of butter in each hand, which she then proceeded to eat. Straight up mouthfuls of cold butter.
My sister and I were appalled … the fingers in the communal food … the ingesting of pure milk fat. We were certain that our parents would want to be informed of this major dining transgression. If they'd taken away my sister's knife privileges after she'd licked a butter knife, they would almost certainly take butter away from our youngest sis. Right?? And like many young siblings, we smugly delighted in the prospect of the other's consequences for poor choices.
So, my sister and I go running outside, shouting, "Mommy, mommy, mommy," who was in the middle of a conversation with our father and promptly shooed us away. "But, Mommy…" we persisted, confident in the righteousness of our interruption. She again directed us back to our dinners. So we just shouted it, "She's dug her fingers into the butter." We enthusiastically demonstrated, with an Oscar worthy tattle-telling performance. "And she's eating it."
Our mother ended her conversation mid-sentence and quickly moved into the kitchen to deal with our sister and her butter-slathered fingers. I can't remember if she lost her butter privileges or not. What I do remember is our mother's immediate shift from being inconvenienced by our interruption to urgently dealing with the incident at hand. We'd proven our cause to be worthy of interrupting.
---