Sweet and spicy honey chipotle infused beets
(Read article summary)
Keep that January diet on track with flavorful interesting salads. Roasted and marinaded beets are easy to make, and combined with mixed greens, bacon, and a drizzle of vinaigrette make a salad worth craving.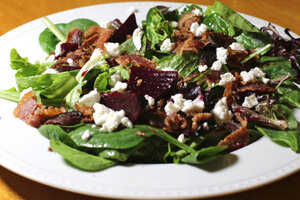 The Gourmand Mom
Between the three boys' birthdays, holidays, and my general love of entertaining, we host a good number of parties each year. So, it's no surprise that we make regular trips to our local Party City. The curious thing is that visits to Party City have become high on the boys' lists of favorite things to do. They ask for trips to Party City as rewards for good behavior.
Musings about trips to Party City have even showed up in the boys' school work. I've collected all varieties of art involving their favorite party supply store. Liam even listed it as his favorite place to visit in his kindergarten "All About Me" book. And on last year's Mother's Day card, where every child in Liam's class listed a reason they love their mother; things like, "She gives the best hugs," and "She kisses all my boo-boos," and "Her smile is brighter than the sun"; Liam's contribution was, "She takes me to Party City." Clearly, I win the Mother-Of-The-Year Award.
It's like this mystical, magical land of party supplies and costumes. It's pure fun, brightly displayed in a warehouse setting, with golden oldies playing in the background. There's a wall covered in balloons, buckets full of candy and toys, and a whole rack of wacky sunglasses. What kid wouldn't love Party City? But my boys take their love further than most.
So, I shouldn't have been surprised about what happened as we were walking past Party City on a recent excursion for boots. We'd exited Famous Footwear, with James in his stroller and the boys in tow. As we neared Party City, the energy become palpable. James' Elmo-radar activated at the sight of a 9-foot tall cardboard Elmo in the window. He began manically chanting "Elmo, Elmo, Elmo" as the boys bounced ahead of us. Liam and Lucas were buzzing on pure adrenaline by this point. As we began to make our pass, the automatic doors to Party City opened, as if by command of the boys' enthusiasm. "Keep moving," I instructed. "Keep moving."
---