Chocolate cake with buttercream frosting
(Read article summary)
Jan. 27 is National Chocolate Cake Day. Celebrate with this chocolate cake and buttercream frosting recipe that has been a favorite with Monitor readers for decades.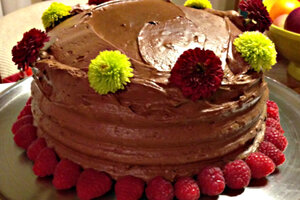 Kitchen Report
There's not a lot to say here except that this will be the best chocolate cake you ever bake. Ever. It has stood the test of time, fads, and the convenience of box cake mixes. This chocolate cake recipe first appeared in The Christian Science Monitor in the 1930s or '40s. It was reintroduced to readers a few years ago in this essay.
When my mom gave me cake tools for Christmas this year, an eight-layer cakemaker complete with a plastic wand with interchangeable parts for carving pretty patterns in the icing, I decided to put them to the test for a friend's New Year's Eve birthday bash.
I don't think I had even made a double-layer cake before attempting this towering masterpiece.
I layered the cake with alternating buttercream frosting and raspberry preserves that I heated in the microwave for about 10 seconds to get it to a spreadable texture. I covered the sides and top with a chocolate buttercream frosting. I adapted the frosting recipe a bit from the original recipe, made it less sweet, which I think works just fine – because this is a really moist, dense cake.
On a whim I decided to use a few fresh flowers for a decorative touch, since I don't quite trust my skills yet to make frosting flowers.
It's delicious either as a simple sheet cake or dressed up into a multilayer celebration cake.
There was just enough to give our revelers a nice big piece each – and left the Birthday Girl with a giant piece to eat the next day, which she did for breakfast. While sweet endings are nice, sweet beginnings are even better.
Chocolate cake
2 cups sugar
1-1/2 sticks butter
1-1/2 cup boiling water
2 cups flour
1/2 cup unsweetened cocoa powder
2 teaspoons baking soda
---