Potato kielbasa chowder and yogurt biscuit bites
(Read article summary)
Make a cozy, comforting meal with this potato chowder flavored with spicy kielbasa, smokey Gouda cheese, and fresh dill, accompanied by simple yogurt drop biscuits.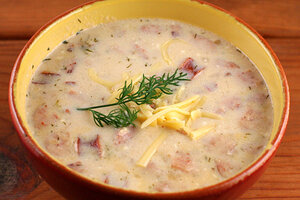 The Runaway Spoon
Sometimes, good recipes don't make good photos. They are just hard to make pretty. This is one of those recipes. I have tried for a while now to photograph this soup, to make it look like a magazine spread, to make it so perfect, your mouth-waters just looking at it. But I can't. My meager skills are not up to it.
But that doesn't mean this isn't a delicious recipe – I assure you it is – just that its humble whole is not picture-perfect. But get past the simple surface and you will find a hearty, comforting soup perfect for chilly winter evenings, nights in front of the fire, or a hearty meal for football fans. Garlicky kielbasa, creamy Gouda, and fresh dill jazz up a simple potato chowder, the perfect hearty meal with a big chunk of warm, crusty bread (or, of course, a biscuit).
Potato kielbasa chowder with Gouda and dill
Serves 4 – 6
1 pound kielbasa
1 tablespoon olive oil
1 medium yellow onion
2 cloves garlic, minced
1 tablespoon chopped fresh dill, plus more for topping
1 teaspoon mustard powder
6 cups chicken broth
3 medium red-skinned potatoes
8 ounces cream cheese, room temperature
2 cups grated Gouda cheese, plus more for topping
Cut the kielbasa into small cubes and place in a Dutch oven with the olive oil. Remember, you'll be eating this with a spoon, so size the kielbasa pieces accordingly. Sauté over high heat until the kielbasa begins to brown. Finely chop the onion and add to the pot. Cook, stirring frequently, until the onions are soft and golden and the kielbasa is nicely browned.
Add the minced garlic, the dill and the mustard powder and cook for two minutes more. Stir in the chicken broth, scraping any browned bits from the bottom of the pot, and bring to a boil.
While the soup is heating, cut the potato into bite-sized cubes. When the soup is boiling, add the potatoes, lower the heat to medium-low and cover the pot. Cook for 15- 20 minutes until the potatoes are tender.
---