Guyanese-style chicken chowmein
(Read article summary)
Sometimes you just crave chowmein. Using chowmein noodles, marinaded chicken, and veggies like beans, carrots, and green onion, you can make your own version at home.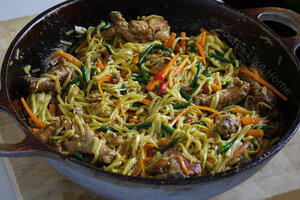 Tastes Like Home
I rarely cook chowmein. It's not because I don't like it but it is one of those dishes that when you do make it, it should be for more than one person. While there are many other dishes that fall into that same category, chowmein is one of those things that I don't particularly like reheated. I prefer it made hot and fresh!
The other thing about eating chowmein is that I prefer to have it from a restaurant. Eaten right there as it comes to the table with smoke still rising from the wok hay.
A couple of weeks ago I had this craving for chowmein. If I were in Guyana I'd know exactly where to go. Though there are many Chinese restaurants here in Barbados, the food leaves a lot to be desired. I am not kidding. I know that people tend to adapt the food to suit the palates of the population, after all, it is about making money. But honestly, does it have to be dumbed-down to the extent that all it becomes is a filler and void of taste?
I went to one of Barbados' newer Chinese restaurants (yes, I have visited the others) hoping to get my chowmein fix. The roast pork was tasty as was the chicken but the noodles did not even have salt! Salt! Don't bother about any other flavor. What was worse for me is that I was not interested in any of the meat, I was there for the noodles!
My dining companions pushed the food around their plates. I couldn't take it anymore and blurted out how tasteless the food was. A collective sigh erupted around the table and then one of my friends said, "Thank God you said it! We didn't want to say anything because we knew how much you really wanted to eat chowmein – we didn't want to spoil it for you by saying anything."
---