Meatless Monday: Squash and black bean tostados
(Read article summary)
Quick and versatile, this recipe for tostados is really more of a guideline. Substitute in your favorite taco fixings or leftovers from the back of the fridge for an easy, tasty meal.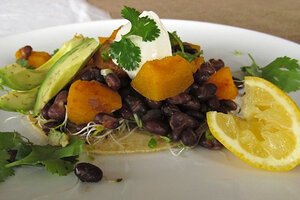 Beyond The Peel
One can never have too many healthy and easy dinner ideas. As you may also know, I love flexible dinner solutions and recipes. This one uses up some leftovers from previous meals, but the variations are almost endless.
I had made this delicious soup created by Joanne Eats Well with Others (but I added roasted squash to the mix) and had beans and squash leftover that I wanted to use up. Not that I mind. There are a-million-and-one things a person can do with those beans and squash and having them cooked and ready to go is a big bonus.
Don't worry though, if you don't like squash or black beans or you simply don't have them on hand, you can make this recipe with just about anything. (See below for suggested options.) The version you see in the photo is made by simply warming up the squash and beans in a frying pan, adding a few spices … and magic happens. Delicious magic!
As for my love of substituting, this recipe does not disappoint.
-Don't have squash: Try it with roasted sweet potato or kale and sauteed onions.
-Don't have black beans: Try it with white beans or any other kind of bean for that matter.
-Beet Bruschetta, though very nontraditional, would make a great topping on these crispy tostadas.
-Want to make it dairy free? Leave out the sour cream garnish.
-Love lots of cheese? Add feta or goat cheese.
-Don't have sprouts: Sub in arugula or spinach.
-Do you know someone who couldn't bare to eat these without meat? Add in pulled pork, chicken or seared Ahi Tuna.
The possibilities are endless. I've even made these with sautéed kale, onions, and paprika spiced crispy potatoes and lots of yummy salsa.
---