Sweet potato cupcakes with cream cheese frosting
(Read article summary)
These unusual cupcakes would make a thoughtful offering for a friend's birthday or sweet treat for another special occasion.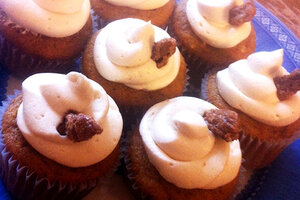 nestMeg
I suppose I should be posting recipes that help people keep their New Year's resolutions, not actively attempt to break them. That will have to wait for another day.
I'm currently testing cupcake recipes for a friend's wedding. These passed the test. The last time I made cupcakes for a wedding I vowed only to do one wedding every two years.
I'm a woman of my word, it turns out.
The original recipe for these cupcakes comes from some sort of Food Network cupcake challenge, but I've modified it to suit my tastes. (And the happy couple, of course.)
If you make them yourself, let me know how they turn out!
Sweet potato cupcakes
Makes 18 – 24 cupcakes
2 cups mashed and cooled sweet potatoes, or one 16-ounce can
2 cups all-purpose flour
2 teaspoons ground cinnamon
1 teaspoon baking powder
1 teaspoon baking soda
1 teaspoon salt
1/2 teaspoon ground ginger
1/8 teaspoon nutmeg
1 cup unsalted butter, melted and cooled
1 cup packed brown sugar
1 cup granulated sugar
4 large eggs, lightly beaten
Cinnamon sugar, if desired
1. Preheat the oven to 350 degrees F. and line a few cupcake tins with paper liners.
2. In a medium bowl, whisk together the flour, cinnamon, baking powder, baking soda, salt, ginger, and nutmeg. In a large bowl, whisk together the butter, brown sugar, granulated sugar, and eggs. Slowly incorporate the dry ingredients and then the sweet potato purée.
---