Cookbook review: 'The Sweet Magnolias Cookbook' and Sunday brunch
(Read article summary)
Wonderfully whimsical and simplistically Southern, 'The Sweet Magnolias Cookbook' is full of recipes that feel like they've been in the family awhile.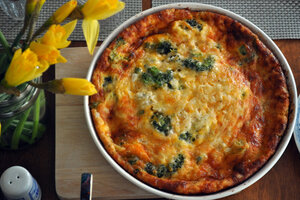 Laura Edwins/Contributor
Raised on "Southern Living" recipes, sweet tea, and homemade pie crust, my bar for Southern-inspired cookbooks is set high. The Sweet Magnolias Cookbook, written by novelist Sherryl Woods with assistance from chef Teddi Wohlford, lived up to my expectations.
The book is based on recipes mentioned, or highlighted in the "Sweet Magnolias" book series, by Ms. Woods. The cookbook references characters from the novels, and is organized by events or activities that feature in the books.
From appetizers to dinner recipes, the cookbook captures everything from a girls' night out on the town to the menu of the book's fictional Sullivan's Restaurant. The section titled "Mama Cruz's Recipe File," feels like the recipes an old family friend or a favorite aunt would lend you.
Most of the recipes are straight-forward, made with simple ingredients. There are several go-to entries that would come in handy in most kitchens. There's a how-to for a dry corn muffin mix that can be made up ahead of time and stored for several months, a basic Hollandaise sauce, a simple salsa, and several quick recipes for smoothies and iced tea with only three or four ingredients and a few steps.
There's a version of almost every dish you would want to see in a Southern cookbook; two options for macaroni and cheese, the requisite dozen biscuit and scone ideas, several recipes that incorporate grits, and a peanut butter pie that looks divine.
But beyond the classic family favorites, the book is balanced with quirkier, more inspiring dishes such as Southern-style crab cakes from the brunch section, pork-stuffed tamales, Vadalia onion canapés, and cinnamon roll bread pudding topped with whipped vanilla bean creme.
---