Travel: New Orleans and bananas foster
(Read article summary)
A culinary travel adventure to New Orleans included a stop at Palace Cafe, which is owned by Brennan's, the restaurant that invented the flaming dessert: bananas foster.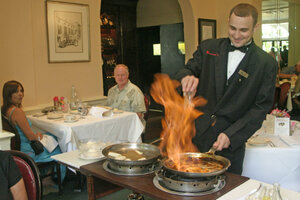 Mario Villafuerte/Special to the Christian Science Monitor Monitor/File
I just got back from a short culinary tour of New Orleans. I've always wanted to go to New Orleans and my main criteria was timing: I knew I didn't want to go during Mardi Gras, Superbowl Week, jazz festival or hurricane season (either too crowded or too risky, weather-wise). So when I saw a trip advertised in the Sur La Table catalog as "Tasting New Orleans" and that they were offering the 4-day, 3-night tour in January, the timing was perfect and I jumped at it.
It was actually more like a 2.5 day tour. Our first event was Monday night as a meet-and-greet at St. Marie Hotel's Vacherie Restaurant. We got a horse-drawn carriage ride around the French Quarter from our hotel on Bourbon St. to Vacherie where Elizabeth Pearce, a culinary historian, told us some good local stories.
Afterward, we were on our own and I met up with a friend who lives in town. I had e-mailed her a list of foods I had to try (mostly desserts, of course) while I was in New Orleans and one of them was Bananas Foster. Her husband suggested Palace Cafe which was owned by Brennan's, the restaurant that invented Bananas Foster in 1951. How could we go wrong?
Turns out we couldn't. We met at Palace Cafe on Canal St and got a front table by the window overlooking the street. Later on, we saw some of the Mardi Gras floats being transported in preparation for the upcoming parade. I got a steak and shrimp entrée but truthfully I was looking forward to dessert.
---