Mussels with fennel and star anise
(Read article summary)
Mussels steamed in a buttery broth of shallots, garlic, tomatoes, and star anise are an easy, delicious, sustainable dinner. Use this recipe to wow your sweetheart on Valentine's Day with a home cooked meal.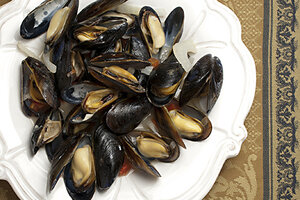 Blue Kitchen
A funny thing happened on the way to this recipe, and it illustrates the twists and turns that often occur in our kitchen. The idea to do something with mussels started with a comment on my Black Bean Soup with Ham Hocks post, oddly enough. In passing, reader Dani H. mentioned that she'd finally gotten around to cooking the Moules Marinières recipe I'd posted a couple of years ago. The next day, I came across a recipe for mussels using fresh ginger and lemongrass. OK, the delicious, easy-to-cook bivalves were back on my radar screen.
Lemongrass, ginger, and fresh mussels were acquired. I was busily mapping out how I would make the recipe my own. Then I took a quick look at past Blue Kitchen mussels recipes (and was shocked to find four of them) and realized I had cooked mussels with lemongrass and ginger already. Granted, it was a curried version, but it still seemed like time for a new direction.
Sticking, for the moment, with the Asian direction the ginger and lemongrass had suggested, I thought of star anise. This seed pod of an evergreen tree grown in China, Vietnam, and Japan is a staple in Eastern Chinese cooking. It also is featured in Vietnamese and Indian cuisines.
---