Frosted brownies for a blizzard or Valentine's Day
(Read article summary)
Give your sweet something sweet with these dense chocolate brownies, topped with sugary chocolate-y frosting. Be sure to offer a glass of milk to wash them down!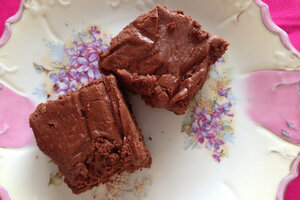 Kendra Nordin
When the word came that Nemo was heading our direction blowing 65 m.p.h. winds and bringing at least 2 feet of snow, my friends Nathan and Emily, who live a few blocks away, extended the invitation for homemade chicken pot pie. I was in charge of bringing brownies.
I knew immediately that I wanted to bring The Pastry Chef's Baking Frosted Brownies. These are so decadent and delicious I definitely did not want to be left in the house alone with a pan. Bringing them to a blizzard dinner party was the perfect solution!
My friend Rebecca, who lives next door, and I trudged through the snow together, wearing ski pants and ski goggles, with mufflers wrapped tightly around our necks. The snow had only begun to fall and the trees were already frosted sugar-white.
After we had our fill of chicken pot pie and brownies, Nathan read to us from "The Long Winter," by Laura Ingalls Wilder and Emily read the Christmas chapter from "Little House in the Big Woods" as Nemo howled outside. Having read this series over and over growing up, (I used to read "The Long Winter" every winter we lived in New Hampshire, just for solidarity), hearing the familiar stories was like a visit with old friends.
The walk home was eerie and quiet beneath the wind. A ban on all vehicles except plows and emergency vehicles emptied the streets. We wished for a horse drawn sleigh and hot baked potatoes in our pockets to keep warm!
---