Indonesian-style pineapple tarts for Chinese New Year
(Read article summary)
In Chineses households it's believed that eating these sweet cookies will bring good fortune as well as sweetness in the upcoming year. Celebrate the Year of Snake with a batch of homemade pineapple tarts.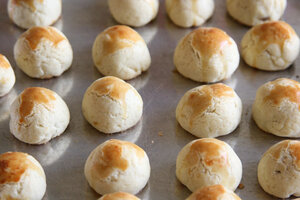 The Asian Grandmothers Cookbook
The snake may not be my favorite animal but I just learned a very interesting factoid about the Year of the Snake which began Sunday, Feb. 10. Just as a snake sheds its skin, this is a good year for making dramatic transformations, whether it's changing jobs, pursuing a lifelong dream, or discarding destructive relationships and negative influences in our lives.
Now, I actually have a new appreciation for this slithery reptile.
I don't have any earth shattering changes in my life to share (although I did promise myself that this is the year I find direction for my writing), however, I will tell you about my favorite new year treat – pineapple tarts!
Pineapple tarts and cookies are popular in Singapore, Malaysia, and Indonesia. And even Taiwan lays claim to a similar pineapple cake. They come in different shapes and sizes, flower shapes being favored in Singapore and Malaysia, whereas simple golf ball-shaped cookies are preferred in Indonesia.Taiwanese cakes, on the other hand, are square or rectangular. Unfortunately, these Asian-style pineapple tarts are not quite de rigueur in the United States but that might change!
Like all other popular new year foods, there's a reason why pineapple tarts are served in most Chinese households (in the above regions) during the "visiting" season, the first 15 days of the new year when it's customary to visit family and friends.
The Mandarin word for pineapple is feng li (鳳梨) which means "phoenix pear," or more commonly, huang li (黃梨), wong lai in Cantonese and ong lai in Hokkien (also Fukien). This means "yellow pear" and phonetically sounds like "good luck comes." So eating this sweet cookie will bring good luck as well as sweetness in the upcoming year.
---